Rider Assessment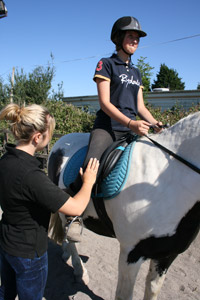 As a qualified human physiotherapist, Caroline can offer treatment to riders and owners. There are times a rider's position can be compromised due to an injury or pain, this can cause tipping to the side or forwards, excessive trunk or head movement, or difficulties achieving certain skills.
The aim of the physiotherapy treatment will be to increase flexibility and reduce stiffness in joints, and reducing pain to achieve an equal seated position.
Treatment is not limited to riders, any human that requires physiotherapy treatment is more than welcome to enquire regarding an assessment.